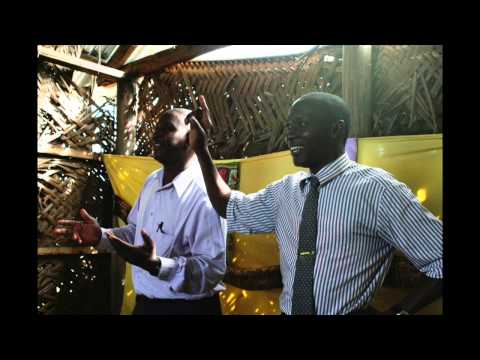 My name is William Jacob I am the pastor of the Baptist Church in Mivumoni.
I moved to Madala from Mikocheni in 2005.  Before I moved there I did some research of the people there.
After that I prayed to God and asked him what I should do.  I felt God calling me to do ministry with the kids in Mivumoni.  I taught tuition in the evening for 2 years. I taught math, bible, and swahili.  I continued to pray to God about the church.  I did evangelizing with my neighbors through teaching their children.
I started the church with 2 members. They were Roman Catholic.  We did evangelism every Sunday after church.  Through this, one  woman became a Christian.  We met at my house.
God blessed us with land and a church building in January 2007.  We now had 6 members.  2 men and 4 women.  One of the men, Baba Ema, was asked to be the deacon.  I taught him to help me.  We also decided we needed an accountant.  We asked one of our members, Mama Rose.
Slowly, we evangelized, prayed, and met together for more members and fellowship.  In June 2007 we had 12 adult members and many children.
I prayed to God about a wife.  Having a wife would be helpful to to me and my ministry.  I prayed for 2 years for a wife and God blessed me with one 1 year ago on December 22, 2007.  Her name is Stella.  Stella is now teaching the young children school in the morning.  She helps me with the choir at church.
Our church continues to grow and serve the community in more ways.  We currently do evangelism, bible study, Sunday services, choir, children's Sunday school, and a Saturday Kids Club.
The communities favorite service our church offers is our medical clinic we host once per month.  Many families have come to know Christ through this service.
The preschool is another tool that is very important to our church.  The families in Madala appreciate having a great school nearby.
Weekly Church Schedule
9:00am     Sunday School Age 2-10 Years
9:00am     Sunday Church Service
5:00pm     Monday – Men's Group
5:00pm     Tuesday – Choir
5:00pm     Wednesday – Women's Group
5:00pm    Thursday – Choir
5:00pm     Friday – Young Girls Ages 8-14
9:00am     Saturday Kids Club Ages 2-10